Introduction:
When it comes to buying or selling a property, enlisting the services of a local real estate agent can make a significant difference in your experience and outcomes. A local agent possesses in-depth knowledge of the area's real estate market, has valuable industry connections, and understands the unique challenges and opportunities of the neighborhood. In this blog post, we will explore the advantages of working with a local real estate agent, with a focus on the expertise and personalized service offered by M-Sanvi Real Estate.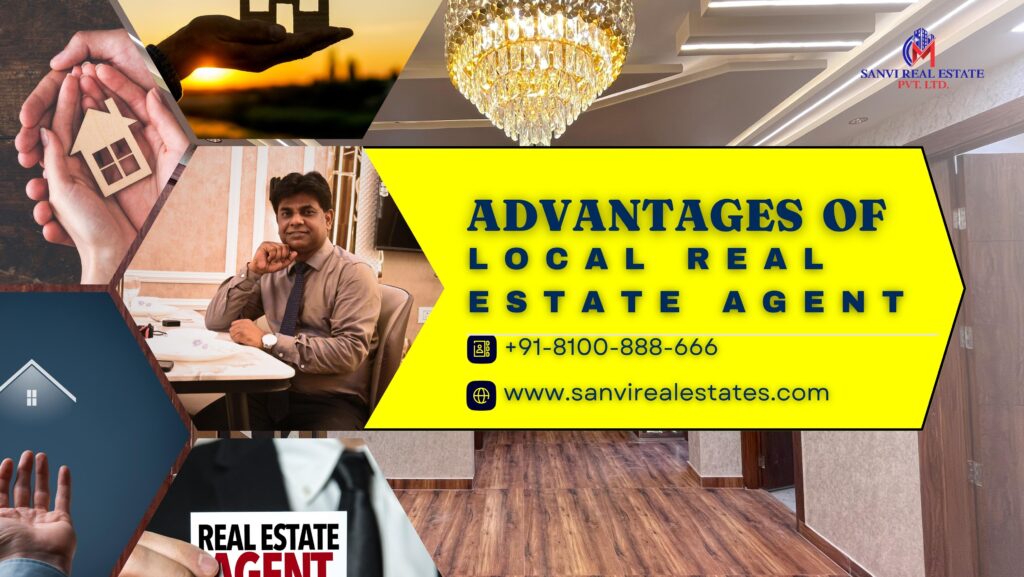 Market Expertise: Local real estate agents have an intimate understanding of the local market trends, property values, and current inventory. M-Sanvi Real Estate's agents are well-versed in the specific neighborhoods of Uttam Nagar, Delhi, enabling them to provide accurate market insights and help you make informed decisions.
Tailored Property Search: Local agents will actively listen to your preferences and requirements to curate a tailored property search that aligns with your needs and budget. Their knowledge of the area allows them to identify properties that match your criteria effectively.
Access to Off-Market Properties: Working with a local agent like M-Sanvi Real Estate gives you access to off-market properties and exclusive listings that are not publicly advertised. This can offer you a competitive advantage in a competitive real estate market.
Negotiation Skills: Local real estate agents possess strong negotiation skills, advocating on your behalf to secure the best possible deal. they are experienced negotiators, ensuring you get the most favorable terms when buying or selling a property.
Extensive Network: Local agents have a vast network of industry professionals, including mortgage brokers, home inspectors, and contractors. They can refer you to trusted professionals, streamlining the home buying or selling process.
Personalized Support: One of the key advantages of working with M-Sanvi Real Estate is the personalized support you receive throughout the real estate transaction. Their agents take the time to understand your goals, address your concerns, and provide guidance at every step of the process.
Local Legal and Regulatory Knowledge: Local real estate agents are well-versed in the legal and regulatory aspects of buying or selling properties in the area. They ensures that all necessary paperwork and documentation are handled correctly, ensuring a smooth and hassle-free transaction.
Familiarity with Local Amenities: Local agents are familiar with the local amenities, schools, transportation options, and recreational facilities in Uttam Nagar, Delhi. They can provide you with valuable insights into the neighborhood's lifestyle and amenities, helping you make an informed decision.
Local Market Trends and Insights: Local agents are on top of the latest market trends and insights in Uttam Nagar, Delhi. They can inform you about the current demand-supply dynamics, price fluctuations, and emerging investment opportunities, helping you make well-timed and informed decisions.
Efficient Property Tours: Navigating through a vast number of properties can be overwhelming, especially if you are new to the area. Local agents can organize efficient property tours, maximizing your time and ensuring you view properties that meet your criteria.
Strong Local Connections: M-Sanvi Real Estate's longstanding presence in the community has allowed them to build strong connections with property owners, developers, and other local stakeholders. This network can be invaluable in finding exclusive properties and negotiating favorable deals.
Assistance with Paperwork and Documentation: The real estate transaction involves a significant amount of paperwork and documentation. Local agents are well-versed in handling these documents, ensuring accuracy and compliance with legal requirements.
Market Value Assessment: Determining the fair market value of a property is crucial whether you are buying or selling. Local agents can conduct thorough market analyses and provide you with an accurate assessment of a property's value, helping you make informed pricing decisions.
Local Area Insights for Home Buyers: If you are a home buyer, Local agents can provide you with detailed information about the neighborhood's safety, school districts, proximity to essential services, and other factors that may influence your decision.
Valuable Investment Guidance: Whether you are a first-time investor or a seasoned buyer, Local agents can offer valuable investment guidance. They can assess your financial goals and risk tolerance to help you find investment properties that align with your objectives.
Timely and Responsive Service: M-Sanvi Real Estate's commitment to customer satisfaction means that their agents are responsive and attentive to your needs. They are readily available to answer your queries and guide you through every step of the real estate process.
Conclusion on Advantages of Local Real Estate Agent:
Collaborating with a local real estate agent like M-Sanvi Real Estate offers a myriad of benefits, from expert market knowledge and negotiation skills to personalized support and access to off-market properties. Their team of dedicated professionals is committed to ensuring your real estate journey is successful and stress-free. So, whether you're buying, selling, or investing in properties in Uttam Nagar, Delhi, partnering with M-Sanvi Real Estate is the right choice to navigate the local real estate landscape with confidence and achieve your property goals.