Introduction:
Finding a budget-friendly flats in a prime location can be a challenging task, but Uttam Nagar in Delhi offers a ray of hope for those seeking affordable housing options. With its strategic location, excellent connectivity, and a range of amenities, Uttam Nagar has become a go-to destination for budget-conscious homebuyers.
In this blog post, we will explore the advantages of owning a budget-friendly flat in Uttam Nagar and how M-Sanvi Real Estate can assist you in finding your dream home.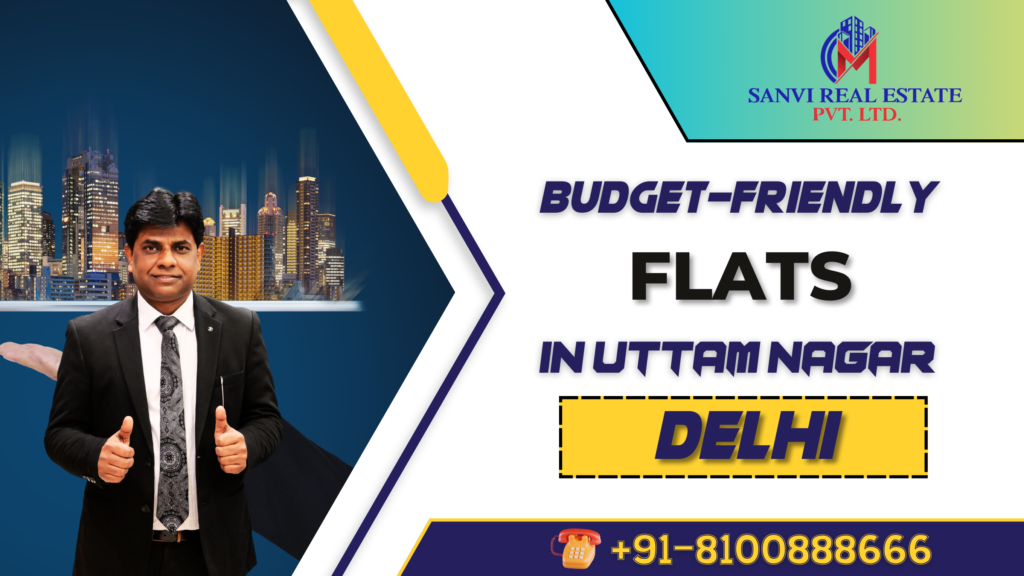 Pocket-Friendly Prices:
Uttam Nagar is known for its budget-friendly flats that cater to a wide range of homebuyers. The area offers a variety of housing options, including apartments and builder floors, at competitive prices. With diligent research and assistance from M-Sanvi Real Estate, you can find a flat that fits your budget without compromising on quality and comfort.
Strategic Location:
Uttam Nagar's strategic location adds to its appeal for budget-conscious buyers. It enjoys excellent connectivity to major parts of Delhi through well-connected roads and proximity to the Delhi Metro. This allows residents to commute easily and access various amenities in the surrounding areas. Additionally, Uttam Nagar is in close proximity to educational institutions, healthcare facilities, shopping centers, and entertainment options, ensuring a convenient and well-rounded lifestyle.
Uttam Nagar, located in the southwestern part of Delhi, offers a plethora of residential options for those seeking flats in a vibrant and well-connected neighborhood. With its proximity to essential amenities, educational institutions, and transportation links, Uttam Nagar has become a sought-after destination for homebuyers.
Amenities and Facilities:
Despite being budget-friendly, flats in Uttam Nagar do not compromise on essential amenities. Many residential complexes in the area offer facilities such as 24/7 security, power backup, parking spaces, and well-maintained common areas. The presence of parks and green spaces also provides residents with opportunities for recreation and relaxation.
Potential for Appreciation:
Investing in a budget-friendly flat in Uttam Nagar can be a wise decision in terms of future returns. The area has witnessed steady development and infrastructural improvements, which have positively impacted property values. As the locality continues to grow and urbanize, the value of your investment is likely to appreciate over time, offering potential gains in the long run.
Sanvi Real Estate: Your Reliable Partner:
When it comes to finding the perfect budget-friendly flat in Uttam Nagar, M-Sanvi Real Estate is here to assist you. With their expertise and extensive knowledge of the local real estate market, their experienced team can help you navigate through available options, negotiate prices, and guide you through the entire buying process. M-Sanvi Real Estate is dedicated to understanding your specific requirements and ensuring that you find a comfortable and affordable home that meets your needs.
Uttam Nagar Neighbourhood:
We will explore some popular residential areas within Uttam Nagar where you can find flats that meet your requirements.
When searching for a dream home or flat in Uttam Nagar, consider these popular residential areas, which provide convenient access to schools, healthcare facilities, markets, and transportation links.
Locations Nr. Uttam Nagar
Mansa Ram Park
Mohan Garden
Rama Park
Ram Vihar
Vipin Garden
Bhagvati Garden
Om Vihar
Rajapuri
Chanakya Palace
Kiran Garden
Dayal Sar Road
Jain Park
Bharat Vihar
Matiyala Road
Conclusion:
Owning a budget-friendly flat in Uttam Nagar, Delhi, offers an excellent opportunity to enjoy affordable and comfortable living in a prime location. With its strategic location, essential amenities, and the assistance of M-Sanvi Real Estate, you can find the perfect budget-friendly flat that meets your requirements and fits your financial capabilities. Don't miss out on the chance to own your dream home in Uttam Nagar.
Whether you are a growing family or a single person and looking for a flat in uttam nagar or dwarka mor, delhi or a independent house.
Contact M-Sanvi Real Estate today to begin your journey towards affordable home ownership.