Are you considering buying a flat in Dwarka Mor the neighborhood that offers a perfect blend of convenience, connectivity, and lifestyle amenities? Look no further than Dwarka Mor, a thriving locality that has emerged as a sought-after residential destination in the city.
In this blog post, we will explore the benefits of buying a Flat in Dwarka Mor and why it is a smart investment choice.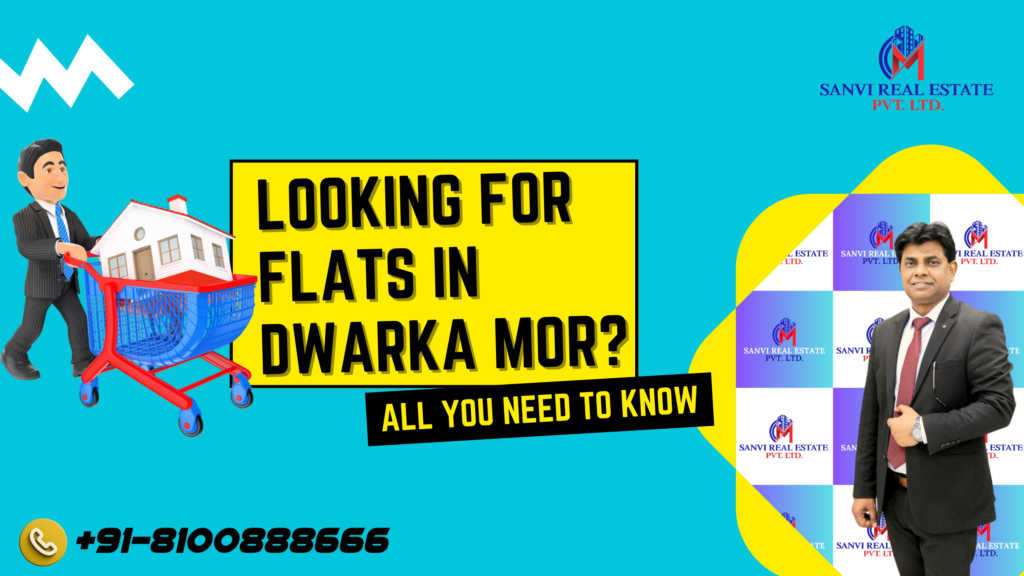 Strategic Location:
One of the major advantages of buying a Flat in Dwarka Mor is its strategic location. Situated in Southwest Delhi, Dwarka Mor enjoys excellent connectivity to major areas of the city. It is well-connected to the Delhi Metro, with Dwarka Mor Metro Station serving as a major transportation hub. The Indira Gandhi International Airport is also easily accessible, making it convenient for frequent travelers. Moreover, the area is well-connected through road networks, ensuring easy access to other parts of Delhi and neighboring regions.
Infrastructure and Amenities:
Dwarka Mor offers a well-developed infrastructure with a wide range of amenities. The area boasts of educational institutions, healthcare facilities, shopping centers, restaurants, and entertainment options, catering to the daily needs and lifestyle preferences of residents. Whether you are looking for quality schools for your children or shopping complexes for your convenience, Dwarka Mor has it all.
Well-Planned Residential Spaces:
Dwarka Mor offers a diverse range of residential options, including flats, apartments, and independent houses. If you are specifically looking to buy a flat, you will find a variety of choices in terms of sizes, configurations, and budgets. From compact 1 BHK flats to spacious 3 BHK flats, there are options available to suit the requirements of individuals, couples, and families of different sizes. Whether you are a first-time buyer or looking to upgrade to a larger space, Dwarka Mor has something for everyone.
Green and Serene Environment:
Despite being located in a bustling city, Dwarka Mor retains its green and serene charm. The locality is well-planned with ample green spaces, parks, and gardens, providing residents with a refreshing environment. The presence of these green pockets offers opportunities for outdoor activities, fitness routines, and relaxation amidst nature.
Potential for Appreciation:
Dwarka Mor has witnessed significant growth and development over the years, resulting in a positive impact on property values. Investing in a flat in this thriving neighborhood can offer good potential for appreciation in the future. As the area continues to develop and infrastructure projects unfold, property values are likely to witness a steady rise, making it a smart investment choice.
Conclusion on Buying a Flat in Dwarka Mor:
If you are looking to buy a flat in Dwarka Mor, M-Sanvi Real Estate is your trusted partner. With our extensive knowledge of the local real estate market, we can assist you in finding the perfect flat that meets your preferences, budget, and lifestyle requirements. Our team of experienced professionals is committed to providing exceptional service, guiding you through the entire buying process and ensuring a seamless experience.
Whether you are a growing family or a single person and looking to buy a flat in dwarka mor or flat in uttam nagar, delhi. Sanvi Real Estate is the best option for you with a range of flats in various location of Dwarka Mor.
With a team of experienced professionals, M-Sanvi Real Estate provides expert guidance throughout the buying process. Whether you are a first-time buyer or an experienced investor, their knowledgeable team will assist you in making informed decisions and finding the property that best suits your needs.
Don't miss out on the opportunity to own a flat in Dwarka Mor the vibrant neighborhood.
Contact M-Sanvi Real Estate today and let us help you find your dream flat in Delhi.