Introduction:
Uttam Nagar, a bustling residential locality in the heart of Delhi, offers a plethora of options for homebuyers looking for their dream abode. Among the popular choices, 2 BHK flats have emerged as the ideal solution for modern families seeking a balance between space, affordability, and comfort.
In this blog post, we will explore why 2 BHK flats in Uttam Nagar, Delhi, are becoming increasingly sought after and how you can find your perfect home with the assistance of trusted real estate experts.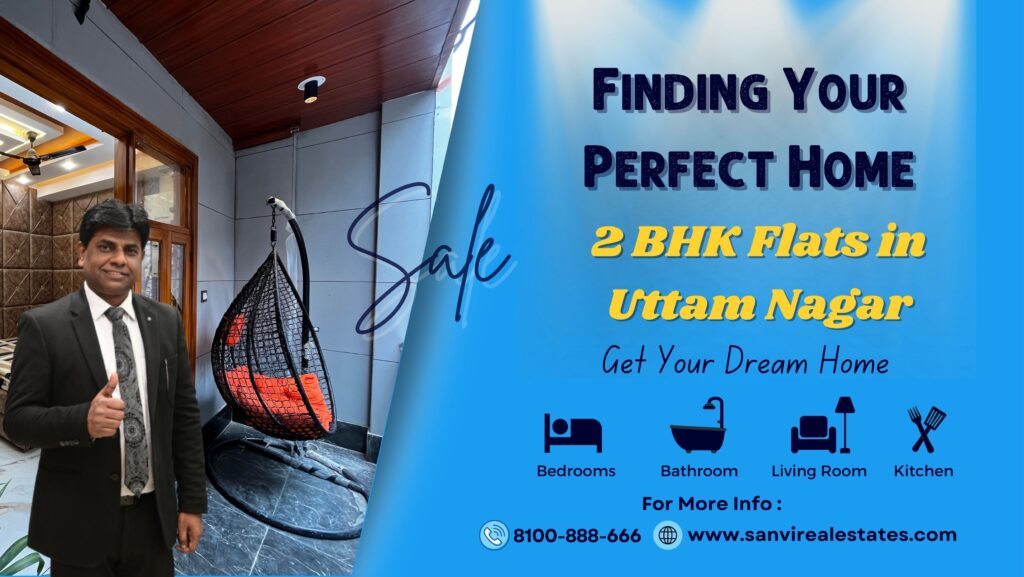 Space Meets Affordability: 2 BHK flats strike the perfect balance between spacious living and affordability, making them an excellent choice for young families, working professionals, and even investors. With a well-designed layout, these flats offer ample space for comfortable living, while the cost remains relatively lower compared to larger configurations.
Ideal for Small Families: For small families or young couples planning to start a family, a 2 BHK flat provides sufficient room for parents and a child, or even a guest room or study. The additional bedroom can also serve as a home office, creating a conducive environment for remote work.
Ample Storage Solutions: Most 2 BHK flats are thoughtfully designed to include ample storage solutions like built-in wardrobes and cabinets. This ensures that your living space remains clutter-free and organized, adding to the convenience of daily living.
Flexible Layout Options: In Uttam Nagar, Delhi, 2 BHK flats come in various layouts to suit different preferences and lifestyles. From compact and minimalist designs to more spacious configurations with balconies, you can choose the one that aligns best with your needs.
Modern Amenities and Facilities: The rise of real estate development in Uttam Nagar has brought forth modern residential complexes that offer a host of amenities and facilities for residents. From landscaped gardens and play areas for children to gymnasiums, swimming pools, and community halls, these developments provide a well-rounded living experience.
Proximity to Essential Services: Living in a 2 BHK flat in Uttam Nagar ensures easy access to essential services like schools, hospitals, supermarkets, and public transportation. The well-developed infrastructure and well-connected road networks enhance the convenience of daily commuting.
Potential for Appreciation: Uttam Nagar's real estate market has shown consistent growth over the years, indicating potential for property appreciation. Investing in a 2 BHK flat can be a smart move for future financial gains.
How to Find Your Perfect 2 BHK Flats in Uttam Nagar, Delhi:
Partner with Reputable Real Estate Experts: To find your dream 2 BHK flat, collaborate with trusted real estate experts like M-Sanvi Real Estate. With their extensive knowledge of the local market and personalized approach, they can identify properties that match your preferences and budget.
Define Your Priorities: Outline your priorities, such as the desired location, budget, amenities, and preferred layout. Communicate these requirements to M-Sanvi Real Estate, so they can tailor their property search accordingly.
Visit Multiple Properties: Visit multiple 2 BHK flats in Uttam Nagar to get a sense of the available options. M-Sanvi Real Estate can schedule property tours and accompany you, providing valuable insights into each property's pros and cons.
Conduct Thorough Inspections: Pay attention to the condition of the flat and its surroundings during inspections. Evaluate factors like natural light, ventilation, security, and proximity to amenities before making a decision.
Check Legal Documentation: Ensure that all legal documents related to the property are in order. M-Sanvi Real Estate's team can assist you in verifying the legality and authenticity of the property to ensure a secure transaction.
Conclusion:
Uttam Nagar, Delhi, offers an array of opportunities for finding your perfect 2 BHK flat. These homes strike a balance between space, affordability, and convenience, making them an attractive option for both families and investors.
With the support of trusted real estate experts like M-Sanvi Real Estate, you can navigate the real estate market with confidence and discover your dream home in this vibrant and thriving neighborhood. Take the first step towards finding your ideal 2 BHK flat and embrace a life of comfort and fulfillment in Uttam Nagar, Delhi.