Introduction:
Finding your dream home is an exciting and significant milestone in life. It's a place where you'll create cherished memories and find comfort and solace. Whether you're searching for a flat in Uttam Nagar or any other location, the process of finding your dream home requires careful consideration and thorough research.
In this blog post, we will guide you through the essential steps to help you find the perfect home with the assistance of M-Sanvi Real Estate, a trusted real estate agency specializing in Flats in Uttam Nagar.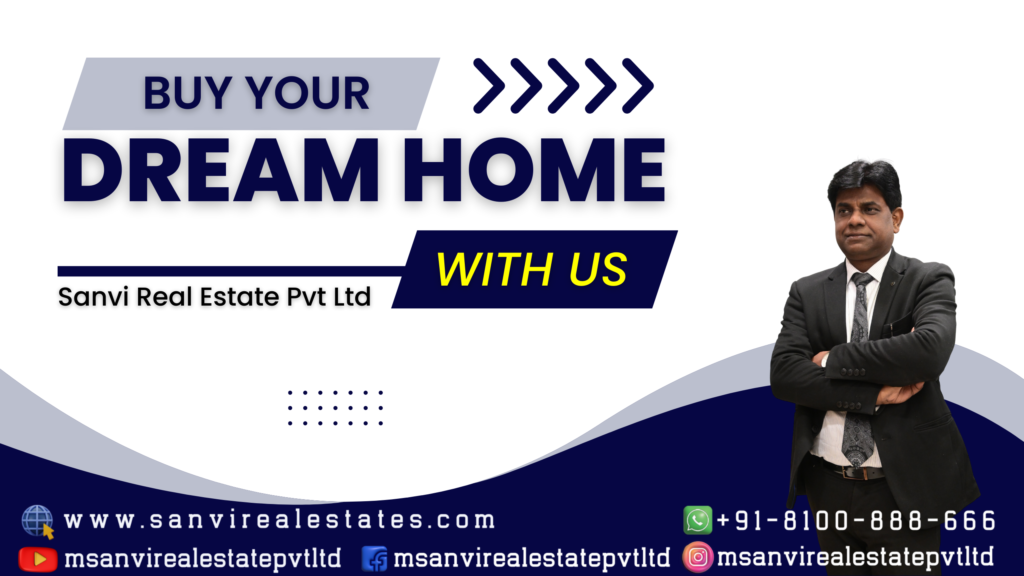 Define Your Requirements: Start by defining your requirements and preferences for your dream home. Consider factors such as location, size, layout, amenities, budget, and any specific features that are important to you. This will help you narrow down your search and focus on properties that meet your criteria.
Research the Market: Conduct thorough research on the real estate market, particularly in Uttam Nagar. Gain insights into property prices, trends, and availability. M-Sanvi Real Estates, with its expertise and knowledge of the local market, can provide valuable guidance and assistance in understanding the current market conditions and available options.
Seek Professional Assistance: Engage the services of a reputable real estate agency like M-Sanvi Real Estate. Their experienced agents can assist you in finding the right flat in Uttam Nagar that aligns with your requirements. They have access to an extensive listing of properties, including newly built flats and resale options, ensuring you have a wide range of choices.
Visit Properties and Evaluate: Schedule visits to shortlisted properties to get a firsthand experience. Pay attention to details such as the location, neighborhood, accessibility to amenities, condition of the property, and overall ambiance. Sanvi Real Estate can accompany you during property visits, offering valuable insights and guidance based on their expertise.
Consider Future Growth: Evaluate the potential for future growth and development in the area. Uttam Nagar is a thriving locality, and it's essential to consider factors such as infrastructure development, upcoming projects, and overall appreciation potential. Sanvi Real Estate can provide you with information about the growth prospects and investment potential in Uttam Nagar.
Financial Planning and Home Loan Assistance: M-Sanvi Real Estates can also assist you with financial planning and home loan guidance. They can connect you with reliable financial institutions and help you navigate the home loan process, ensuring a seamless and hassle-free experience.
Make an Informed Decision: Once you have evaluated all aspects, it's time to make an informed decision. Consider all the factors that are important to you, such as location, amenities, budget, and growth potential. M-Sanvi Real Estate will support you throughout the decision-making process, providing expert advice and guidance to help you make the right choice.
Evaluate Neighborhood Amenities: Consider the amenities and facilities available in the neighborhood of Uttam Nagar. Look for proximity to schools, hospitals, shopping centers, parks, and recreational areas. Uttam Nagar offers a range of amenities that cater to the needs of residents, including educational institutions, healthcare facilities, supermarkets, and entertainment options. M-Sanvi Real Estate can guide you in choosing a flat that is conveniently located near these amenities.
Assess Connectivity: Uttam Nagar enjoys excellent connectivity to other parts of Delhi. Look for flats that are well-connected to major roads, highways, and public transportation options. Uttam Nagar has easy access to metro stations and bus routes, making it convenient for daily commutes and travel. M-Sanvi Real Estate can provide you with information on the connectivity options available for different flats in Uttam Nagar.
Consider Safety and Security: Safety is a crucial aspect when choosing your dream home. Uttam Nagar is known for its relatively safe and secure environment. However, it's still important to assess the safety measures in the locality and the specific residential complex you are considering. Look for gated communities with 24/7 security, CCTV surveillance, and other safety features. M-Sanvi Real Estate can assist you in finding flats in Uttam Nagar that prioritize safety and security.
Customization Options: If you have specific preferences or plans for customization, discuss this with M-Sanvi Real Estate. They can help you find flats that allow for customization, such as choosing interior finishes, layouts, or modifications. Having the flexibility to personalize your home can make it truly your own and enhance your living experience.
Affordability and Value for Money: One of the advantages of buying a flat in Uttam Nagar is the affordability factor. The area offers a range of flats at competitive prices compared to other prime locations in Delhi. M-Sanvi Real Estate can assist you in finding flats that offer the best value for your investment, considering factors such as pricing, amenities, location, and potential for appreciation.
Conclusion on Finding Your Dream Home:
Finding your dream home is a journey that requires careful planning, research, and expert assistance. With M-Sanvi Real Estates by your side, you can navigate the process of finding a Flat in Uttam Nagar with confidence. Their extensive knowledge of the local real estate market, personalized service, and wide range of property options make them the perfect partner in your quest for the ideal home. Take the first step towards finding your dream home and contact M-Sanvi Real Estates today to embark on a rewarding and fulfilling home-buying journey in Uttam Nagar.