Introduction:
Finding the perfect home is an important decision that requires careful consideration and research. If you're searching for a 2 BHK flat in Dwarka Mor, Delhi, you're in luck! Dwarka Mor is a thriving locality known for its excellent connectivity, amenities, and quality of life.
In this blog post, we will explore the benefits and features of 2 BHK flat in Dwarka Mor, Delhi and how they can be the ideal choice for your dream home.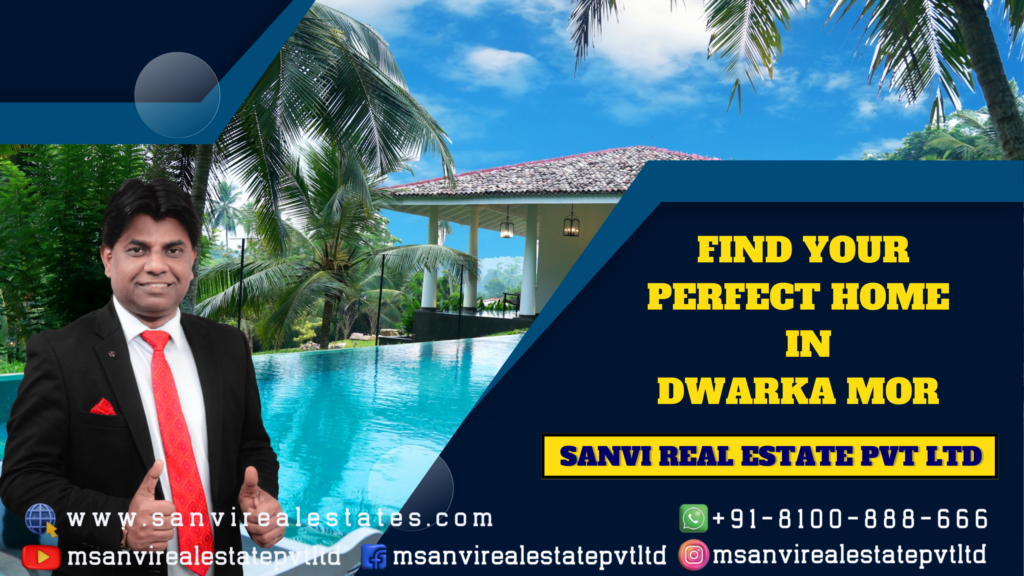 Spacious and Comfortable Living: 2 BHK flat in Dwarka Mor, Delhi offer the perfect balance between space and affordability. With two bedrooms, a living area, a kitchen, and often additional amenities such as balconies, these flats provide ample space for you and your family to live comfortably. The well-designed floor plans ensure efficient utilization of space, making it a perfect choice for small families or individuals who desire a cozy yet spacious living environment.
Affordability: Dwarka Mor is known for its comparatively affordable real estate prices, making it an attractive option for budget-conscious homebuyers. 2 BHK flat offer an excellent value proposition, combining affordability with the benefits of owning a spacious and comfortable home. M-Sanvi Real Estate, a trusted real estate agency in Dwarka Mor, can assist you in finding affordable 2 BHK flat that match your budget and requirements.
Convenient Location: Dwarka Mor enjoys excellent connectivity to other parts of Delhi. It is well-connected through roadways and has easy access to public transportation options such as the metro, buses, and taxis. This ensures smooth commutes to major commercial hubs, educational institutions, and healthcare facilities. Living in a 2 BHK flat in Dwarka Mor allows you to enjoy the convenience of a well-connected location, saving you valuable time and effort in daily commuting.
Amenities and Infrastructure: Dwarka Mor offers a range of amenities and infrastructure that enhance the quality of life for its residents. From shopping complexes and supermarkets to parks, recreational facilities, and educational institutions, everything is within easy reach. M-Sanvi Real Estate can help you find 2 BHK flat in Dwarka Mor that are located near these amenities, ensuring you have a convenient and comfortable lifestyle.
Potential for Appreciation: Investing in a 2 BHK flat in Dwarka Mor not only provides you with a comfortable living space but also holds potential for future appreciation. Dwarka Mor is a growing locality with ongoing development projects and infrastructure improvements. This can positively impact the property's value over time. M-Sanvi Real Estate, with their in-depth knowledge of the local real estate market, can guide you towards flats that offer good appreciation potential.
Modern Facilities and Features: 2 BHK flat in Dwarka Mor often come equipped with modern facilities and features to enhance your living experience. These may include amenities such as 24/7 security, power backup, elevators, designated parking spaces, and well-maintained common areas. M-Sanvi Real Estate can assist you in finding 2 BHK flat that offer these modern conveniences, ensuring a comfortable and hassle-free lifestyle.
Good Resale Value: Investing in a 2 BHK flat in Dwarka Mor not only provides you with a comfortable living space but also offers potential for good resale value. The locality's popularity and the demand for housing in the area contribute to the appreciation of property prices over time. If you plan to sell the flat in the future, it can be a lucrative investment. M-Sanvi Real Estate can provide insights into the market trends and help you make an informed decision.
Vibrant Community and Social Life: Dwarka Mor boasts a vibrant community and social life, with various cultural events, festivals, and community gatherings taking place throughout the year. Living in a 2 BHK flat in this locality allows you to become a part of this vibrant community and enjoy the social interactions and activities. M-Sanvi Real Estate can guide you in selecting a flat that is located in a community-oriented area, fostering a sense of belonging and connection.
Proximity to Educational Institutions: Dwarka Mor is home to several renowned educational institutions, ranging from schools to colleges and coaching centers. If you have children or plan to pursue further education, living in a 2 BHK flat in Dwarka Mor offers the advantage of proximity to quality educational institutions. M-Sanvi Real Estate can help you find flats that are located conveniently near these educational facilities.
Expert Guidance and Assistance: Navigating the real estate market can be overwhelming, especially for first-time buyers. M-Sanvi Real Estate offers expert guidance and assistance throughout the home buying process. From understanding your requirements and budget to providing personalized property recommendations and handling legal and documentation procedures, they ensure a smooth and hassle-free experience.
Conclusion:
Finding your perfect home is a significant milestone, and choosing a 2 BHK flat in Dwarka Mor can be an excellent decision. The spacious living areas, affordability, convenient location, and range of amenities make it an ideal choice for individuals and families looking for a comfortable and convenient lifestyle. M-Sanvi Real Estate is your trusted partner in finding the perfect 2 BHK flat in Dwarka Mor, with their expertise and extensive listings.
Begin your search today and let M-Sanvi Real Estate help you find your dream home in this vibrant locality.