Introduction:
Choosing the right real estate agency is a critical step in ensuring a smooth and successful buying or selling experience. With numerous agencies vying for your attention, it's essential to make an informed decision.
In this blog post, we will provide you with valuable insights and tips on how to choose the best real estate agency, with a special mention of M-Sanvi Real Estate—Top Real Estate Company in Uttam Nagar and a trusted name in the industry that exemplifies excellence and professionalism.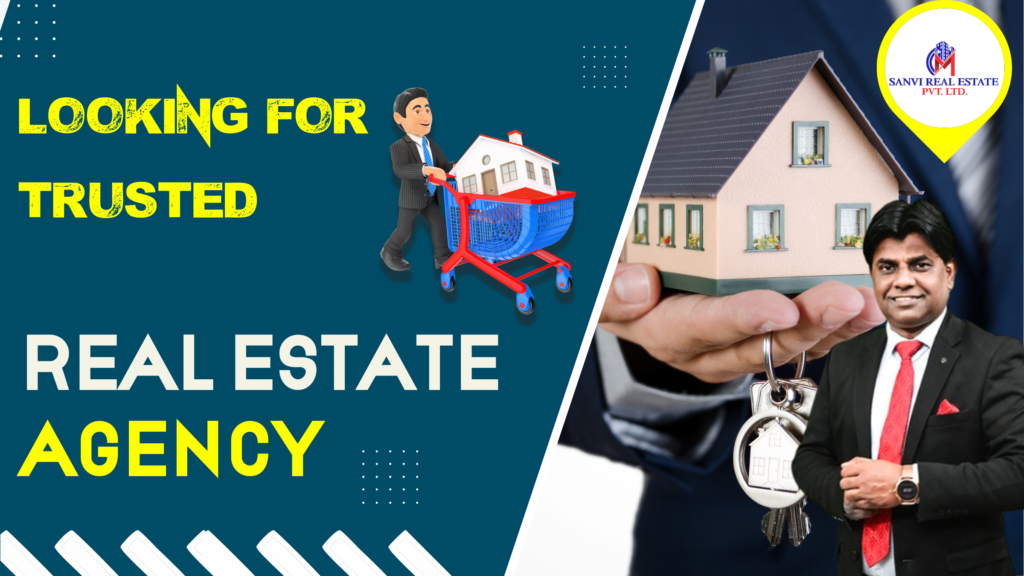 Research and Reputation:
Start by conducting thorough research on various real estate agencies in your area. Look for agencies with a solid reputation and positive reviews from past clients. M-Sanvi Real Estate has built a strong reputation for its exceptional services, customer satisfaction, and transparent dealings. Their track record speaks for itself, making them a reliable choice for all your real estate needs.
Expertise and Experience:
Consider the expertise and experience of the real estate agency. An agency with seasoned professionals who possess in-depth knowledge of the local market and industry trends will be better equipped to guide you through the buying or selling process. M-Sanvi Real Estate's team consists of experienced professionals who understand the nuances of the real estate market and can offer valuable insights and guidance tailored to your specific requirements.
Range of Services:
Evaluate the range of services offered by the real estate agency. A comprehensive agency should provide assistance in various aspects, including property search, property valuation, negotiation, legal documentation, and financing. M-Sanvi Real Estate offers a wide array of services, ensuring that all your real estate needs are met under one roof. Whether you're looking to buy, sell, or invest, M-Sanvi Real Estate can provide the necessary support and expertise.
Local Market Knowledge:
Choose a real estate agency that possesses extensive local market knowledge. They should be familiar with the neighborhoods, property values, market trends, and amenities in the area you are interested in. M-Sanvi Real Estate has a deep understanding of the local market dynamics, particularly in the areas they operate, such as Uttam Nagar. Their expertise in the local market allows them to guide you towards properties that align with your preferences and investment goals.
Transparent and Ethical Practices:
Transparency and ethical practices are crucial when selecting a real estate agency. Ensure that the agency maintains transparency in all their dealings, including pricing, property information, and legal documentation. M-Sanvi Real Estate places a strong emphasis on transparency and ethical practices, providing you with accurate and reliable information throughout the buying or selling process.
Personalized Service and Communication:
Consider the level of personalized service and communication offered by the real estate agency. A reputable agency should prioritize understanding your needs and preferences, and keep you informed at every step of the process. M-Sanvi Real Estate believes in providing personalized service, ensuring that your specific requirements are met. They maintain open lines of communication, keeping you informed about the progress of your transaction and addressing any concerns promptly.
Conclusion on Choosing the best Real Estate Agency:
Choosing the best real estate agency is crucial for a successful and stress-free real estate experience. By considering factors such as research and reputation, expertise and experience, range of services, local market knowledge, transparent and ethical practices, as well as personalized service and communication, you can make an informed decision. M-Sanvi Real Estate exemplifies these qualities and has earned a reputation as a trusted real estate agency. With their professionalism, expertise, and commitment to customer satisfaction, Sanvi Real Estate stands out as an excellent choice for all your real estate needs.
Whether you are searching for Flat in Uttam Nagar, Delhi or Flat in Dwarka mor.
Sanvi Real Estate is the real partner for finding your Dream house in delhi.