Introduction:
If you're looking to buy a Fully Furnished Perfect Flat in Uttam Nagar, Delhi, you're in luck! Uttam Nagar is a thriving residential area that offers a wide range of housing options. However, navigating the real estate market can be overwhelming, especially if you're unfamiliar with the process.
In this blog post, we'll share valuable tips and tricks to help you secure your dream Perfect flat in Uttam Nagar. And with the expertise of M-Sanvi Real Estate, a trusted name in the real estate industry, you'll have the support you need every step of the way.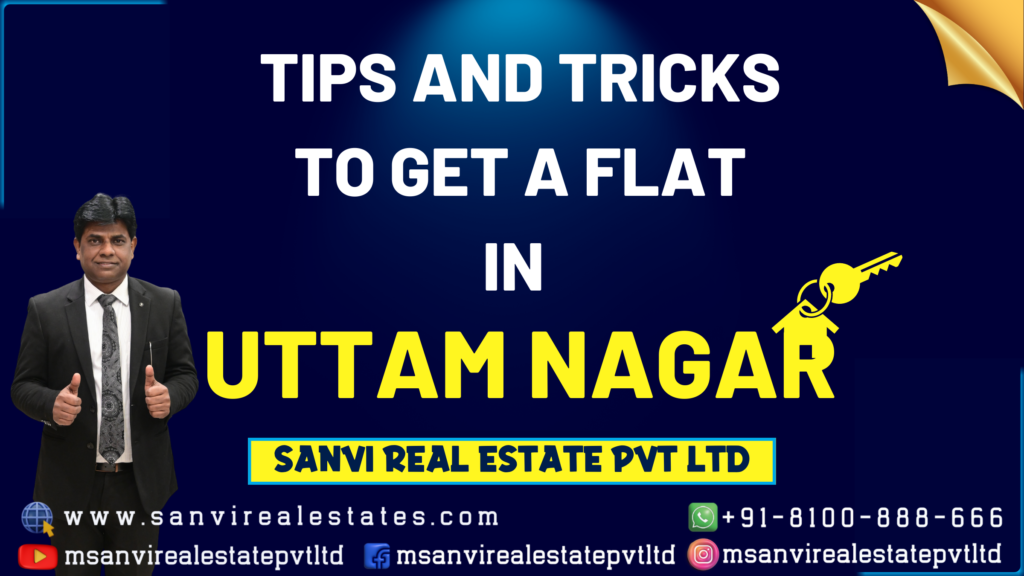 Things to Know Before Buying a Perfect Flat in Uttam Nagar
Determine Your Budget: Before beginning your flat search, it's crucial to establish a realistic budget. Evaluate your financial situation, including your income, savings, and any potential loans or mortgages. M-Sanvi Real Estate can assist you in understanding the current market trends and provide guidance on setting a suitable budget for your Fully furnished flat in Uttam Nagar.
Define Your Requirements: Consider your specific requirements for a flat, such as the number of bedrooms, floor area, amenities, and location preferences. Uttam Nagar offers a variety of options, including 1 BHK, 2 BHK, 3 BHK, and even 4 BHK flats. Clearly defining your requirements will help you narrow down your search and find the most suitable flat for your needs.
Research the Market: Conduct thorough research on the real estate market in Uttam Nagar. Explore various online portals, consult with local real estate experts, and visit M-Sanvi Real Estate's website to gain insights into available flats. Stay updated on the latest listings, pricing trends, and upcoming projects. M-Sanvi Real Estate, with their extensive experience in Uttam Nagar, can provide you with comprehensive market information and assist you in finding the ideal flat.
Seek Professional Assistance: Working with a reliable real estate agency like M-Sanvi Real Estate can make your flat search process much smoother. They have in-depth knowledge of the local market and can guide you through the entire process, from shortlisting flats to negotiating the best deal. With their expertise, you can save time and make informed decisions.
Visit the Flats: Schedule visits to the shortlisted flats to get a firsthand experience of the properties. Pay attention to the layout, amenities, construction quality, and overall condition of the flats. Take notes, ask questions, and envision yourself living in each space. M-Sanvi Real Estate can arrange property viewings for you, ensuring a hassle-free experience.
Legal and Documentation: Once you've found your ideal flat, it's important to complete the necessary legal and documentation procedures. Engage a trusted lawyer or legal advisor to review the agreements and ensure all documents are in order. M-Sanvi Real Estate can connect you with reputable legal professionals who specialize in real estate transactions to safeguard your interests.
Get Pre-Approved for a Home Loan: If you plan to finance your flat purchase through a home loan, it's advisable to get pre-approved before starting your search. This will give you a clear understanding of your budget and streamline the buying process. M-Sanvi Real Estate can recommend reputable financial institutions and help you through the loan application process.
Consider Resale Value: While purchasing a flat, it's essential to consider its resale value in the future. Factors like location, amenities, and infrastructure development can impact the property's appreciation potential. M-Sanvi Real Estate, with their knowledge of Uttam Nagar's real estate market, can guide you towards flats with promising resale value.
Explore the Neighborhood: Uttam Nagar offers a variety of neighborhoods, each with its unique charm. Take the time to explore the surroundings, amenities, schools, healthcare facilities, and proximity to transportation. M-Sanvi Real Estate can provide valuable insights into the different neighborhoods and help you find a flat that aligns with your lifestyle preferences.
Evaluate Builder's Reputation: Before finalizing a flat, research the reputation of the builder or developer. Look for their past projects, quality of construction, delivery timelines, and customer reviews. M-Sanvi Real Estate can assist you in identifying reputable builders with a track record of delivering quality projects in Uttam Nagar.
Consider Future Development: Take into account upcoming infrastructure and development projects in Uttam Nagar. New metro lines, road expansions, or commercial establishments can impact the value and livability of the area. M-Sanvi Real Estate stays updated on the latest development plans and can provide valuable insights into future growth prospects.
Negotiate Wisely: When you find the right flat, it's crucial to negotiate the best price and terms. M-Sanvi Real Estate has extensive experience in negotiating real estate deals and can help you secure the most favorable terms for your flat purchase.
Conclusion:
Securing a flat in Uttam Nagar, Delhi, requires careful planning, market research, and the assistance of a reputable real estate agency. With the tips and tricks mentioned in this blog post and the support of M-Sanvi Real Estate, you'll be well-equipped to navigate the real estate market with confidence. Start your journey towards owning a Luxurious Perfect flat in Uttam Nagar today and experience the joy of finding your dream home in this vibrant locality.
Contact M-Sanvi Real Estate for personalized guidance and expert advice tailored to your specific requirements.