Introduction:
Are you in search of your dream home in the vibrant and bustling locality of Uttam Nagar, Delhi? Look no further! Uttam Nagar is a sought-after residential area known for its excellent connectivity, thriving infrastructure, and a plethora of amenities. If you desire a spacious and stylish living space, 3 BHK flats in Uttam Nagar are the perfect choice.
In this blog post, we will explore the myriad benefits of owning a 3 BHK flat in this thriving locality and how M-Sanvi Real Estate can be your solution in finding the ideal property.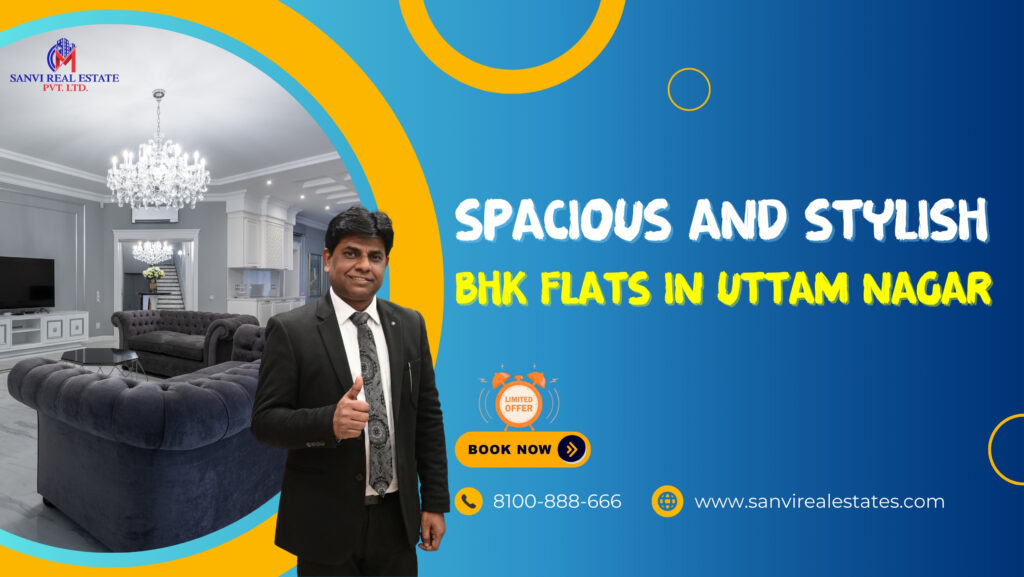 Ample Space for Comfort: One of the primary advantages of 3 BHK flats is the generous living area they offer. With three bedrooms, a living room, and a dining area, these flats provide ample space for families of various sizes. You can create personalized zones for relaxation, entertainment, and family time, ensuring everyone enjoys their private space while fostering a sense of togetherness.
Versatility in Utilization: The additional room in a 3 BHK flat offers versatility in utilization. The extra space can be used as a home office, a guest room, or even a hobby room. You have the flexibility to adapt the space to suit your lifestyle and needs, making it an investment for a dynamic and growing family.
Ideal for Growing Families: For families planning to expand or with young children, 3 BHK flats are an ideal choice. The spacious layout ensures that your children have enough room to play and study comfortably, promoting a wholesome upbringing. Moreover, with a designated space for guests, your home is always ready to accommodate friends and relatives.
Stylish Designs and Modern Amenities: The 3 BHK flats in Uttam Nagar boast stylish designs and contemporary amenities to enhance your living experience. From well-designed interiors to modern fittings, these flats are a perfect blend of aesthetics and functionality. M-Sanvi Real Estate offers a wide range of 3 BHK flats for sale in Uttam Nagar, ensuring you find a property that matches your lifestyle and preferences.
Excellent Connectivity and Infrastructure: Uttam Nagar enjoys excellent connectivity to other parts of Delhi through various modes of transport. The area is well-connected to Metro stations, major roads, and bus terminals, making your daily commute hassle-free. Additionally, the locality offers a range of amenities such as schools, hospitals, shopping complexes, and recreational centers, ensuring you have everything you need within close proximity.
M-Sanvi Real Estate: Your Solution for the Perfect 3 BHK Flat, As you embark on the journey of finding your dream 3 BHK flats in Uttam Nagar, M-Sanvi Real Estate can be your trusted partner. With a vast portfolio of properties, their expert team will understand your requirements and guide you towards the ideal flat that aligns with your preferences and budget.
Appreciating Property Value: Investing in a 3 BHK flats in Uttam Nagar can be a wise financial decision as the property values in this locality have shown consistent appreciation over the years. With the area witnessing significant development and infrastructural growth, owning a 3 BHK flat can be a valuable asset that appreciates in value, providing you with potential returns in the long run.
Enhanced Community Living: Living in a 3 BHK flats in Uttam Nagar allows you to become part of a vibrant and diverse community. You'll have the opportunity to build lasting relationships with your neighbors, participate in community events, and be part of a close-knit social circle. The sense of community fosters a secure and pleasant living environment for you and your family.
Amenity-Rich Lifestyle: Many 3 BHK residential projects in Uttam Nagar come with a host of modern amenities, such as gymnasiums, swimming pools, landscaped gardens, and children's play areas. These amenities offer you and your family an opportunity to unwind and indulge in recreational activities without leaving the comfort of your residential complex.
Potential for Rental Income: Apart from being an ideal living space for families, 3 BHK flats in Uttam Nagar also offer the potential for rental income. With a growing demand for quality residential properties in the area, you can consider renting out the extra room or the entire flat, generating a steady source of passive income.
Customization Opportunities: Many real estate developers offer customization options for 3 BHK flats in Uttam Nagar, allowing you to tailor the interior decor to your personal taste and preferences. M-Sanvi Real Estate can assist you in finding properties with the flexibility to customize interiors, ensuring your dream home truly reflects your unique style.
Expert Guidance and Hassle-Free Process: Navigating the real estate market can be overwhelming, especially for first-time buyers. M-Sanvi Real Estate's experienced team of professionals can guide you through the entire home buying process, from property selection to legal documentation, ensuring a seamless and hassle-free experience.
Conclusion 3 BHK Flats in Uttam Nagar:
Investing in a spacious and stylish 3 BHK flats in Uttam Nagar, Delhi, is a decision that promises an enhanced lifestyle for you and your family. With M-Sanvi Real Estate as your solution, you can explore an array of well-designed flats for sale in this thriving locality.
Embrace the perfect blend of comfort, convenience, and aesthetics, and secure your dream home in Uttam Nagar with a 3 BHK flat that meets all your expectations.